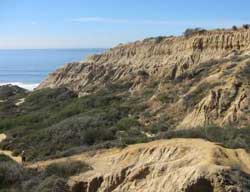 As we close the book on the winter season here in San Diego we have to consider not only the short term effects of this drought but also look toward the future and recognize that this is going to be the trend for years to come. In a region like ours when in good years every drop of the 10 or so inches of rainfall counts you can see how precious it all is when we don't even receive half of that.
Not only is it time to ditch the lawns and water thirsty plants for drought tolerant plants and natives, but we also need to plan for a intense fire season. Clear brush around your home, maintaining the defensible space. Planting vegetation that has a slower burn rate is a start as is using appropriate fire safe materials around your home and cleaning out gutters all will help if the worse was to come.
No one said it had to be ugly, you can create beautiful outdoor spaces that are fire safe and drought tolerant. Please remember that we live in a coastal desert and our landscapes should reflect the limitations that creates.
If you would like to have Cleator Landscape Design create a beautiful outdoor space for you please contact us at 619.917.3644