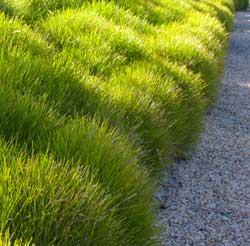 I really feel that ornamental grasses are often the unsung heroes of successful landscape design. Its hard to think of another plant or family of plants that can offer so much diversity and interest to a outdoor space then ornamental grasses.
I know that I have spoken about ornamental grasses before, but I wanted to share a few of my favorites again with you today.
Festuca glauca 'Elijah Blue' for the steely blue color and low habit.
Festuca mairei for some more height and that meadow look.
Muhlenbergia rigens bigger still, this native is great for habitat gardens.
Chondropetalum tectorum for the clean modern look.
Dianella revoluta tend to look like a cross between phormium and dietes.
Lomandra longifolia for its great color and tidy appearance.
Ornamental grasses bring movement, color, texture and interest to your outdoor space in a way that few others can. With a little know-how they can be paired with almost any style your seeking to create an amazing space you will cherish.
If you would like Cleator Landscape Design to help create a beautiful outdoor space for your property please contact us at 619.917.3644